Posted by Laura L. Brown, Owner, Austin City Gift Baskets on Sep 26th 2019
Austin City Gift Baskets is excited to offer Iron Works BBQ Rub in our gift baskets!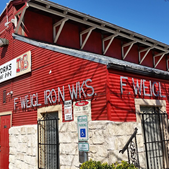 Talk about an Austin Original! The Iron Works BBQ historical downtown Austin building was once an Iron Workshop. It became the restaurant known as "Iron Works" in 1978. The full story of the of Weigl Family and their legacy can be found on the Iron Works website.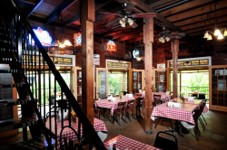 The Iron Works family-owned and operated business is not only unique in its building's historical legacy, but in it's AMAZING barbecue...most notably, their jumbo beef ribs. For me personally, I can't get enough of their brisket! The building is unique and primarily still exists in its original state, without renovation. I've been there dozens of times and didn't even notice that it's not air-conditioned. Yet, somehow it stays cool in August with open windows and cozy warm in the winter with their wood burning heaters. But, don't let that deter you. If you get the chance to eat there, don't pass it up! You're supporting one of the last small family-owned businesses in the growing metropolis of downtown Austin.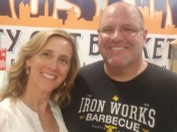 I recently had a chance to talk with owner, Steven who personally delivered our order of Iron Works rub to our production site. I suggested that he was sitting on a real estate gold mine, given the location and I asked if it was possible that he might sell in the near future. Steven replied, "We've had offers, but we don't plan on selling until the offer is impossible to pass up." Now, that's a business strategy!
And why should they sell? With Austin property values going skyward with every passing day, and the demand for Iron Works barbecue greater than ever, they're sitting pretty, no doubt about it.It makes my love for small business beam with pride!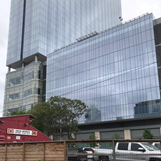 It's a strange and wonderful sight to see the small Iron Works building standing on the corner of Red River and Cesar Chavez next door to the monstrous skyscraper hotels that surround it. There are even more hotels and commercial buildings on the way with cranes poised and ready! The Hilton Hotel sits next door to Iron Works with its luxury indoor pool, 8,000 sq ft of meeting rooms and 20+ floors. Without a doubt, it creates a stark contrast to the small red barn-like building that it neighbors. It's a clear representation of the David and Goliath dilemma that our city is facing as we move toward fast expansion and growth.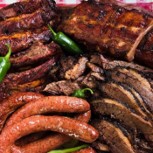 If you think about it, Iron Works is taking a stand for small Austin business. They're holding firm and towing the line for the classic Austin that once was. And shouldn't that be rewarded and revered? I would also put El Arroyo, Threadgill's, Chez Zee, Mother's Café, Fonda San Miguel, Continental Club, Antone's and the Broken Spoke on that list. Here is a link to some of the "Classic Austin Restaurants" according the Austin American Statesman. We should visit these establishments and stay true to them. They survived, and they didn't sell out! But, how much longer do we have before they meet the same fate as East Side Café, which recently sold and closed its doors after 31 years?

I guess there's nothing constant, but change. And that's understandable. Growth is good. We knew back in the 80's that Austin was the best kept secret on the planet. But the word got out as we knew it eventually would. And I think we're managing to maintain a good balance. Way to go Austin! And a special "Thank you" to Iron Works, for giving us a place to go home for great barbecue with all the nostalgia and historical comfort of Austin, Texas back-in-the-day that should not be forgotten.
Here's an astounding statistic: According to the Austin Chamber of Commerce, Austin's population is projected to nearly double in the next 20 years, making it the Fastest Growing Metro City in the US. So, make room on Mopac! Is that even possible? Yes, change is inevitable, and opportunity is everywhere. As far as I'm concerned, we're living in the greatest city on the planet. So, let's stay true to our roots and what has made us so great! Continue to support small Austin business, keep it local and by all means… eat more barbecue!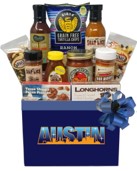 At Austin City Gift Baskets, we're want to be a reflection of both the authentic Austin that defined the original taste of Austin and made it so outstanding, and the new flavors that are keeping it fresh, exciting and interesting. The bottom line for us is, "We support local Austin business". Some of our vendors are very new, like El Norteno beef jerky and Murphy's Marshmallows and some are faithful originals like Kerbey Lane Café Pancake Mix and AustiNuts. But, they're all part of our great city, the culture and the true Austin pleasures as we know them today.
We hope you'll support local Austin business. When you purchase a gift basket from Austin City Gift Baskets, you're supporting not just one local Austin business, but LOTS of local Austin businesses! And you're sending a little taste of the great city that we all know and love. Everyone has a story about how they got here, why they came to live in Austin and why they love it here. There's no doubt there's a lot of love for our great city. Let's show that love and keep it local!
If you have a local item that you really love or would like to see another local Austin vendor included in our gift baskets, please take a moment and send us an email. We would love to hear from you!
Thank you for making Austin great!
Laura Brown
Owner, Austin City Gift Baskets